Real Estate Attorneys in Cumming
Cost-Effective Representation for Stakeholders in Forsyth County
Commercial real estate transactions represent significant investments from numerous players who have a stake in the outcome. When the development, construction, sale, or lease of a property hits a snag, all stakeholders suffer — that's where Lipscomb Johnson LLP can help.
Our real estate attorneys in Cumming have extensive experience in complex, high-value legal disputes, including litigation. We draw on decades of service to developers, lending institutions, sureties, contractors, landlords, and tenants to negotiate practical solutions that get stalled projects back on track.
When it is necessary to arbitrate or litigate an issue, we provide skilled representation focused on achieving the best possible results.
---
Our real estate lawyers in Cumming, GA are ready to help. Call (770) 637-4741to schedule your free initial consultation today.
---
Guiding Clients from Planning to Permits to Completion
Our Cumming real estate lawyers regularly handle all aspects of commercial transactions, including:
Purchases and leases: Before you buy a property or sign a lease, due diligence is typically necessary. Further, drafting and review of the purchase contract or lease is best handled by an experienced attorney.
Navigating bureaucracies and administrative hearings: The foundation of a real estate development isn't concrete — it's paperwork. Whether you are set for a land-use hearing; appealing an adverse administrative decision through the agency or a court; or seeking, preserving, or extending entitlements, having a lawyer adept at battling bureaucracy will help keep your project on track. Other potential derailments include zoning determinations, special exceptions, appeals, violations, variances, permitting and bonding decisions, and condemnation or eminent domain.
Planning: For commercial, industrial, and residential properties, our attorneys can help in the planning stage. We guide clients with establishing residential subdivisions and mixed-use communities that utilize private land-use covenants or homeowner association (HOA) formation and can assist with granting easements (reciprocal, private, or public utility).
When issues arise, we resolve them quickly and decisively. And when opportunities arise, we protect your best interests.
Our Fierce Litigators Understand What's at Stake
If you're dealing with commercial or residential lease or sublease issues, you need an attorney you can rely on when a strong approach is needed in:
Contract breaches: Whether the matter at hand is a purchase or sale agreement, a lease, or some other contract, the advice of a lawyer is invaluable when determining your remedy. Is it possible to force the deal to go through? Or can you strike a new deal and hold the breaching party responsible for any losses?
Title disputes: A cloud on the title to your property can jeopardize financing, development, or sale. We're adept at establishing chains of title and clearing up competing claims.
Loan defaults: If you are a lender or borrower, real estate workouts (a renegotiation of the deal that typically waives the default and restructures terms) when a loan is in default can be challenging, especially if your business is at stake.
Understanding real estate transactions in all their aspects, from the points of view of diverse stakeholders, enables our attorneys to present creative yet practical remedies that protect our clients' interests while advancing the cause of the underlying project.
Contact Our Real Estate Lawyers in Cumming for Practical, Cost-Effective Solutions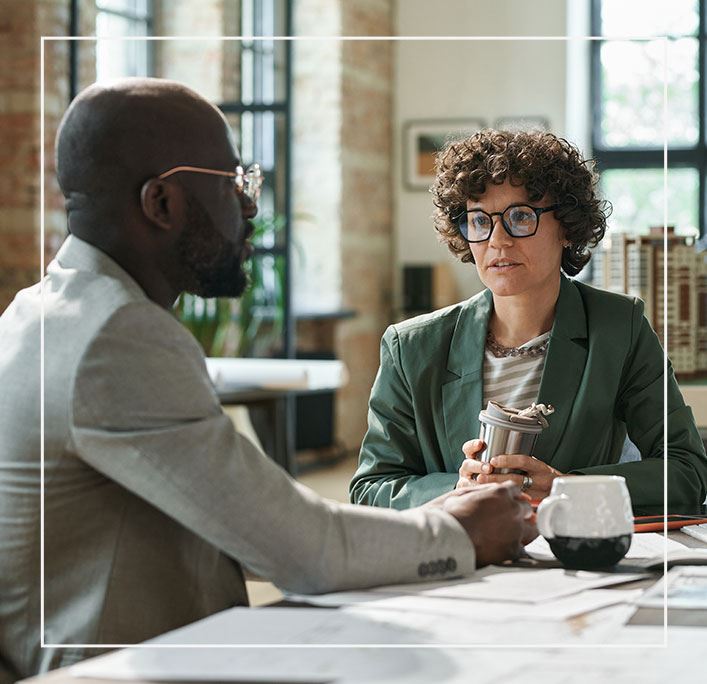 Committed to Positive Results

Having built our reputation one satisfied client at a time, we fully understand that excellence arises from a consistent application of our best efforts in service of our clients' needs.

Personally Engaged

Our attorneys understand how a legal controversy can weigh upon you, so we are accessible in person, over the phone, or via email whenever you need us throughout the legal process.

Strong Connections Through the Judicial and Legal Community

Our relationships with local government leaders and other attorneys provide us with unique perspectives and insights.

200 Years of Combined Experience

We draw on decades of practice across multiple legal areas to present comprehensive solutions to the full range of your issues.
Contact Lipscomb Johnson, LLP
WE PROVIDE KNOWLEDGEABLE, DECISIVE ACTION DESIGNED TO SECURE OPTIMAL RESULTS.